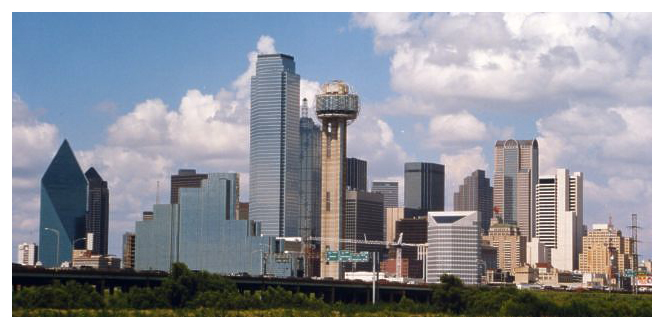 Dallas Museum of Art
1717 N. Harwood St., Dallas TX; Tel. 214.922.1200
With a permanent collection that ranges from impressionist paintings to contemporary sculpture, and representing the world's many artistic heritages, the 100-year-old Dallas Museum of Art is a world-class art museum located in downtown Dallas. The building itself offers unhindered views of the downtown skyline from outdoor gardens, waterfalls and grassy areas. Admission is free on the first Tuesday of every month, as well as every Thursday evening from 5pm-9pm.
Dallas Zoo
650 S. R L Thornton Freeway, Dallas TX; Tel. 214.670.5656
Texas is known for doing things large, and the Dallas Zoo is no exception. Located on over 95 hilly acres and showcasing some of the largest animals in the wild, including lions, tigers, elephants and giraffes, the recently renovated Dallas Zoo is best known for its "Wild of Africa" exhibit. Part fantasyland, with zoo-themed restaurants and entertainment, and part conservatory, the Dallas Zoo is a popular Dallas attraction, especially with families and school children visiting the Lacerte Family Children Zoo.
The Trammell & Margaret Crow Collection of Asian Art
2010 Flora Street (between Harwood and Olive), Dallas, TX 75201; Tel. 214.979.6430
The Trammell & Margaret Crow Collection of Asian Art contains more than 700 scrolls, paintings, objects of metal and stone, and large architectural pieces from China, Japan, India, and Southeast Asia. Over 300 works are on display in three galleries including precious jade ornaments from China, delicate Japanese scrolls and a rarely seen 28-foot by 12-foot sandstone facade of an 18th century Indian residence.
Conspiracy Museum
110 S. Market St., Dallas TX 75202; Tel. 214.740.3040
A Dallas museum built for skeptics and conspiracy theorists everywhere, Dallas' Conspiracy Museum (a left-leaning Dallas attraction) tackles the questions behind the propaganda, implicating far-reaching plots driving the JFK, Martin Luther King, Jr. and Robert Kennedy assassinations with documentation and persuasively subversive arguments, photography and film footage.
Dallas Arboretum
8525 Garland Rd., Dallas TX; Tel. 214.327.8263
The Dallas Arboretum is pure Zen on 66 acres of meandering and diverse gardens, fountains and serene knolls on the edge of White Rock Lake, minutes from downtown Dallas and accessible from many locations around the Texan metropolis. With Dallas' characteristic warm, sunny days, the Dallas Arboretum is a popular attraction for Dallas weddings and family outings. In the spring, over 2,000 azaleas bloom in the Dallas Arboretum's signature Historic DeGolyer Gardens, complete with sculptures and a gazebo.
Deep Ellum
2121 Main St., Dallas TX 75226; Tel. 214.747.DEEP
A bohemian enclave in Dallas, Deep Ellum is a funky and eclectic mix of shops, bars, restaurants and nightclubs in what was once an impoverished warehouse district in Dallas. One of Dallas' top attractions, Deep Ellum is alive with graffiti art coloring the walls and a big slice of humanity carousing the streets of Deep Ellum shopping, drinking and eating.
Fountain Place
1445 Ross Ave., Dallas TX
One of the most impressive buildings in Dallas is shaped like a prism and has a green, otherworldly glow. The fifth tallest building in Dallas, Fountain Place is an oasis Dallas attraction with over 175 crashing, pouring and gurgling fountains on its grounds.
Sixth Floor Museum
Elm & Houston Sts. (West End Historic District), Dallas TX; Tel. 212.747.6660
Located on the Sixth Floor of the Dallas County Administration Building in the Dealey Plaza National Historic Landmark District, the Sixth Floor Museum is one of Dallas¹ best museums and most popular attractions. An ode to everything John F. Kennedy, the museum is located around the site from where Lee Harvey Oswald fired his deadly shot on November 22, 1963. The Sixth Floor examines the cultural climate of the 1960s and JFK's political legacy through artifacts, film and memorabilia from the era.
Thanks-Giving Square
1627 Pacific Ave., Dallas TX 7520; Tel. 214.969.1977
Conceived in 1961 by the City of Dallas, Thanksgiving Square is an all-faith shrine to the divine and Dallas' most serene attraction. Dedicated to a spirit of gratitude, downtown Dallas' Thanks-Giving Square features the spiral-shaped Chapel of Thanksgiving and the Glory Window, a 60-foot vertical stained-glass work of art is an attraction in its own right. Also designed by Philip Johnson, the Meditation Garden is sloped to hide the surrounding traffic and create the illusion of isolation amid skyscrapers.
Billy Bob's Texas Honky Tonk
(Friday to Saturday)
Texas conjures images of dusty rodeos, intrepid bull riders, twangy country music and lively two step dancing, sizzling steaks and more Lone Star icons. Billy Bob's Texas Honky Tonk combine all of these Texan elements and more in one Dallas attraction. Dallas.com is pleased to present this Texas tour, complete with a real live rodeo followed by a Texas-style dinner. Top it all off with some live music? You bet, partner! more on Billy Bob's Texas Honky Tonk>>
Medieval Times Dinner and Tournament
From the moment you cross the drawbridge over the fish-filled moat, you will be transported back to a time when brave and valiant knights battled for their King and Queen. Throughout the evening, you will marvel at these courageous men on horseback, who fight with swords and compete in the dangerous joust. Cheer on your favorite knight as you enjoy a feast "fit for a king."
more on Medieval Times Dinner and Tournament>>